Warning
: extract() expects parameter 1 to be array, null given in
/opt/data/FAAR/index.php
on line
143
Warning
: extract() expects parameter 1 to be array, null given in
/opt/data/FAAR/index.php
on line
144
Notice
: Undefined index: page in
/opt/data/FAAR/index.php
on line
146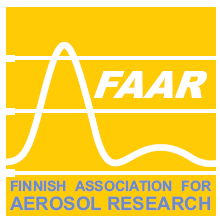 Statement
The Finnish Association for Aerosol Research (FAAR) was founded in May 1983. The number of members today is about 180. The main aim of the society is to act as a link between researchers in various Finnish Institutes and Universities. After the foundation of the European Aerosol Assembly, FAAR has taken an active role also in international connections. FAAR is also a member society in International Aerosol Assembly.
FAAR acts most visibly by organizing meetings and conferences, many of them international. The society has kept good contacts to well known scientists in other countries. FAAR has its own publication "Report Series in Aerosol Science", where several issues of conference abstracts have appeared. In addition, doctoral theses written by several of the society's members have reached a wider audience through the Report Series.
The chairman of FAAR in 2019 is Miikka Dal Maso, vice chairman Jussi Malila, and secretary Paxton Juuti.