With profound sadness we announce that our colleague Prof. Sergej Zilitinkevich passed away on February 15, 2021 after a short illness. With his passing we have lost a leading scientist in atmospheric turbulence. He will always be remembered as an inspirational and enthusiastic scientist. He was scientifically active until very end, underlined by the fact that his most recent international project had a kick-off meeting last week. His contributions in INAR, in Pan Eurasian Experiment and in the atmospheric science field in general will be dearly missed. On behalf of INAR we would like to extend our deepest condolences to Dr. Iryna Bashmakova and the whole Zilitinkevich family. Markku Kulmala, Tuukka Petäjä, Hanna Lappalainen
Arto Mustajoki, professor emeritus at the University of Helsinki and academician of IEAS, is awarded "in recognition of extensive and meritorious production of information works" by the Finnish Association of Popular Science Literature at the Virtual Book Fair on 24 Oct 2020. Mustajoki has been working as professor of Russian language at the University of Helsinki for over 30 years and an all-rounder in the academic world. As influential scholar in the field of science policy, he is a contributor to many debates and master of promoting science topics. He has also done television programs and educational materials that are in high demand. For half a century, he has been paving the way for Finns to learn more about Russia, its culture and Russian language. One of the main goals of his work is the wish to help people better understand each other.
The first electronic version of the Academicians Directory with information about IEAS European Center members is
published
.
Finnish Ecumenical Council in collaboration with the University of Helsinki, INAR, The Finnish Innovation Fund Sitra (SITRA) and Cultural Centre Sofia organized Sofia Forum Suomi (Finland) - climate forum on 9.-10.Dec.2019. The Forum report was published on 21.9.2020 and contributes the IEAS Europe / PEEX science diplomacy activities.
Read the report
(only in Finnish). dated 21.9.2020.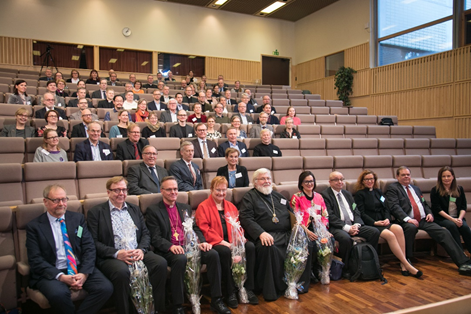 The IEAS-EUROPE Centre, hosted by INAR Univ.Helsinki, is in close collaboration with PEEX. The IEAS-Europe Center involves 69 actual members and goes on growing. Recently the IEAS-Europe Center has approved 5 new candidatures: Prof. Desheng Dash Wu at Stockholm Univ. / Univ. of Toronto, Prof. Jaana Bäck at INAR, Prof. Yong Xue at the Univ. of Derby, Dr. Sci. Steffen M. Noe at the Estonian Univ. of Life Sciences, Inst.of Agricultural and Environmental Sciences, Dr. Sci. Vladimir Kutcherov at the Royal Inst. of Technology (KTH) in Stockholm.
dated 31.May. 2019
IEAS
has established the Eurasian Journal of Digital Earth, already registered with the Federal Service for Monitoring of Compliance with Cultural Heritage Protection Law. The certificate of registration: ПИ № ФС 77-75041, 2019, February 19. Read more:
http://www.ejde.org/index.php/ejde
dated 31.May. 2019
The 3rd Sofia Earth Forum, coordinated by IEAS-Europe and PEEX program and preliminary scheduled for 15-18 June 2020, has been postponed due to COVID-19. For further information please contact the IEAS-Europe Secretary
This email address is being protected from spambots. You need JavaScript enabled to view it.
.
International Eurasian Academy of Science (IEAS) organized, in collaboration with Pan-Eurasian Experiment (PEEX), 2nd Sofia Earth Forum on 31.10–1.11 in Helsinki, Finland. The Forum concentrated on grand challenges, solutions and legitimacy. During the Forum, Professor David Gee from Upsala University, Sweden, received the IEAS Academician Diplomacy.
dated 5.Nov. 2018
Professor Nikolay Kasimov, the member of PEEX Steering Committee from Lomonosov Moscow State University, was nominated as an Academician of the International Eurasian Academy of Sciences.
dated 14.Feb.2014
M. Kulmala wrote a Nature comment paper "Build a global Earth observatory". He calls for continuous, comprehensive monitoring of interactions between the planet's surface and atmosphere.
Read the article here
. It is also available in
Russian
and
Chinese
.
dated 12.Feb. 2018
International Eurasian Academy of Sciences (IEAS) meeting was held on 22.Sep in Moscow. The future activities, such as organization of the 2nd Sofia Earth Forum in Helsinki in 2018, were discussed.
dated 22.Sep.2017
The 3rd PEEX Science Conference & 7th Meeting was held in Moscow on 19-22.Sep.2017 at MSU. Best Poster Award was given to Yuro Shtabkin on Regional sources of near-surface ozone in the Northern Eurasia. Conference Proceeding 2017.
Conference Program
,
Participants
and memo. The 8th PEEX meeting including working groups will take place on October 2018 and the 4th Science Conference in spring 2019 in Helsinki.
dated 25.Sep.2017
PEEX – DBAR (Digital Belt & Road Initiative) collaboration agreement was signed by Academician M. Kulmala and Academician H.Guo on 20.Sep.2017 in Moscow in a connection of the PEEX Science Conference.
dated 22.Sep.2017
European GEO Workshop
took place in Helsinki between 19-21 June 2017. As a part of WS program we had
a panel discussion
on "Coordinated, comprehensive in situ data component of atmospheric and ecosystem measurements for complementing the space borne Earth Observation", which is a relevant topic to implement the PEEX Program research infrastructure component.
dated 01.Aug.2017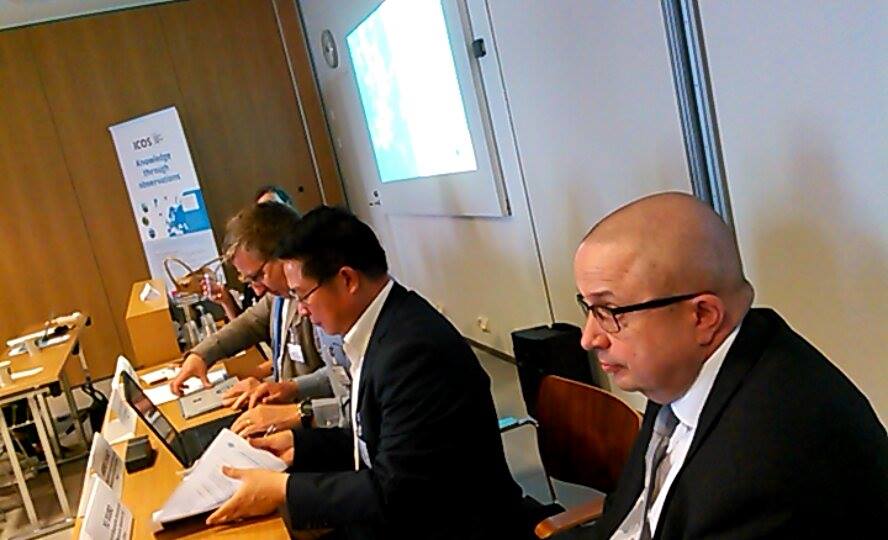 PEEX introduced in the InterCarto Conference InterCarto / InterGIS-23, Geoinformation support of sustainable development of Asia-Pacific region territories in conditions of global climate change, June 26-28, 2017, Yuzhno-Sakhalinsk, Russia,
dated 26.06.2017
Prof. Markku Kulmala has been awarded the honorary title of Academician of Science, the highest honour that can be bestowed on any individual scientist in Finland. President of the Republic of Finland Sauli Niinistö granted the titles at a presidential session on 10th March.
More information
,
Interview
dated 19.March
Newly elected members of EU Center of IEAS are: Prof. Almut Arneth (KIT), Prof. Ari Laaksonen (FMI) , Prof. Meinrat O. Anreae (Max Planck Inst. Chemistry), Prof. Paolo Laj (LGGE), Prof. Arto Mustajoki (Univ.Helsinki) , Prof. Kostas Eleftheriadis (Demokritos), Dr. Hanna Lappalainen (Univ.Helsinki),
dated 07.Dec.2017
PEEX introduced in the International Conference InterCarto/InterGIS-22 on 12.-14.9.2015 in Protvino, Russia. The conference was organized by IEAS, IGU and Center of World Data System for Geography ICSU-WDS and hosted by the Technopark Protvino.
Further information
.
dated 12.Sep.2016

PEEX-HQ together with IEAS-Europe organized the 1st Sofia Earth Forum in Helsinki, Finland, on 20-22.June.2016. The Forum aims at joint understanding over different boundaries and at finding practical solutions on the Grand Challenges.
Speakers
,
Agenda
.
dated 22.06.2016.
Prof. M. Kulmala (Univ.Helsinki) together with Academician H.Guo (RADI) were awarded with Cosmonautics Federation of Russia gold medal during the 2nd PEEX Science Conference in Beijing, China. The medals were delivered by Prof. V. Bondur.
dated 20.May.2016
A joint meeting between IEAS European Centre (Helsinki), IEAS Headquaters (Moscow, Russia) and IEAS China Centre was held in Beijing on 19.May.2016.
dated 20.May.2016
Prof. Markku Kulmala has been acknowledged by a membership of the CASAD, Chinese Academy of Sciences, (CAS), in the meeting held in Beijing, Nov. 2015 . CASAD acts as an advisory body for the Government of the Republic of China on scientific and technological issues.
Press release (in Finnish)
.
dated 16.Dec .2015.
PEEX introduced in the INTER Carto - INTER GIS Conference "Sustainable development of territories: cartography and Geoinformational support", Krasnodar, Russia, Nov 9 - 14, 2015.
Conference Agenda
,
dated 18.Nov.2015
PEEX has been introduced by Prof. Zilitinkevich at the 12th meeting of the Valdai Club, in Sochi, Russia, on 19.Oct.2015. Valdai Club is a dialogue forum of policy makers founded by the Russian Federation Ministry of Foreign Affairs and Ministry of Education and Science.
Concept for the meeting
.
Zilitinkevich Interview
.
dated 23.Oct.2015

The honorary doctorate of the University of Pretoria, South Africa, is awarded to Prof. Sergej Zilitinkevich for his works pioneering contribution on the theory of Geophysical Turbulence and Atmospheric Boundary Layers. Prof. Sergej Zilitinkevich has enriched and dramatically changes current understanding of the physics of the atmosphere and the climate system.

IEAS Workshop in Balkan 23.6-2.7.2015. Visiting universities Cyril and Methodius University in Skopje, Steta Univ. Tetova, Univ. Prishtina, University of Tirana, Polytechnic University of Tirana, Aristotle Univ. Thessaloniki. Report on the activities of IEAS; Sustainable development of countries and regions (IEAS Vice-President, Professor Vladimir Tikunov, Lomonosov Moscow State Universities), Prospects of development of the European center of IEAS; Pan European Project (PEEX) and opportunities to participate in it (PEEX Executive Officer Dr. Hanna Lappalainen Univ.Helsinki); A10 years of Google Earth and Urban 3D models for sustainable development and decision support (Dr. Eugene Eremchenko, Federal State Inst. Science State Research Center for Applied Microbiology & Biotechnology. Practical sessions with students on the topic of Creating 3D models with free software. Interpreting of satellite imagery: new ideas and typical errors (E.Eremchenko).
Eremchenko_et_al_2015
dated 08.Jun.2015
IEAS Gold medal awarded to prof. Alexander Baklanov (WMO) and Silvermedal for Dr. Hanna Lapplainen (University of Helsinki /FMI) in the PEEX Conference,
dated 11.Feb.2015.
IEAS General Assembly of IEAS on 24-25 Nov. 2014 in Moscow.
dated 24.Nov. 2014
Academy professor Markku Kulmala nominated as new head of IEAS European Centre; More information here.
dated 24.Nov.2014
1st IEAS meeting in Helsinki for election of new European members of IEAS: Prof. Markku Kulmala, Prof. Alexander Baklanov, Prof. Yrjö Viisanen, Dr. Igor Isay , Prof. Tuukka Petäjä,
dated 1.Oct.2012.
IEAS meetings in China: Guangzhou ( 2001)
IEAS meetings in China: Beijing (1997)