On 2nd of December 2022 the International Frontier Science Forum was successfully held in Tengchong County, Yunnan Province. The forum was organized by China Association for Science and Technology (CAST) and People's Government of Yunnan Province, hosted by China Committee of International Science Council (ISC-CHINA). The Digital Belt and Road Program (DBAR) and International Society for Digital Earth (ISDE) co-sponsored the forum.
The International Frontier Science Forum focused on important scientific issues that need to be solved urgently in the process of achieving sustainable development as a platform to exchange scientific and innovative ideas, and supports regional and global sustainable development actions for south and southeast Asia.
President of ISC-CHINA, Academician GUO Huadong (China), Academician KANG Le (China), Professor Vilas Nitivattananon (Thailand), Professor HAN Yafang (China), Professor Daekyo CHEON (South Korea), and Academician CHENG Qiuming (China) delivered keynote speeches, sharing researches and ideas of frontier science to support technological innovation and economic development.
Academician GUO Huadong, in his keynote speech, emphasized that Building a Digital Belt and Road need to consider the interdisciplinary and frontier sciences utilizing, which he considered as the key to achieving sustainable development. He introduced the Digital Belt and Road Program (DBAR), which is an international science program with the aim to promote the application of digital technology, with a particular focus on Big Earth Data, towards achieving Sustainable Development Goal in the Belt and Road Countries by promoting and enabling sharing of data, technology and knowledge, to effectively make up for the challenges of access to sustainable development data, insufficient communication and understanding.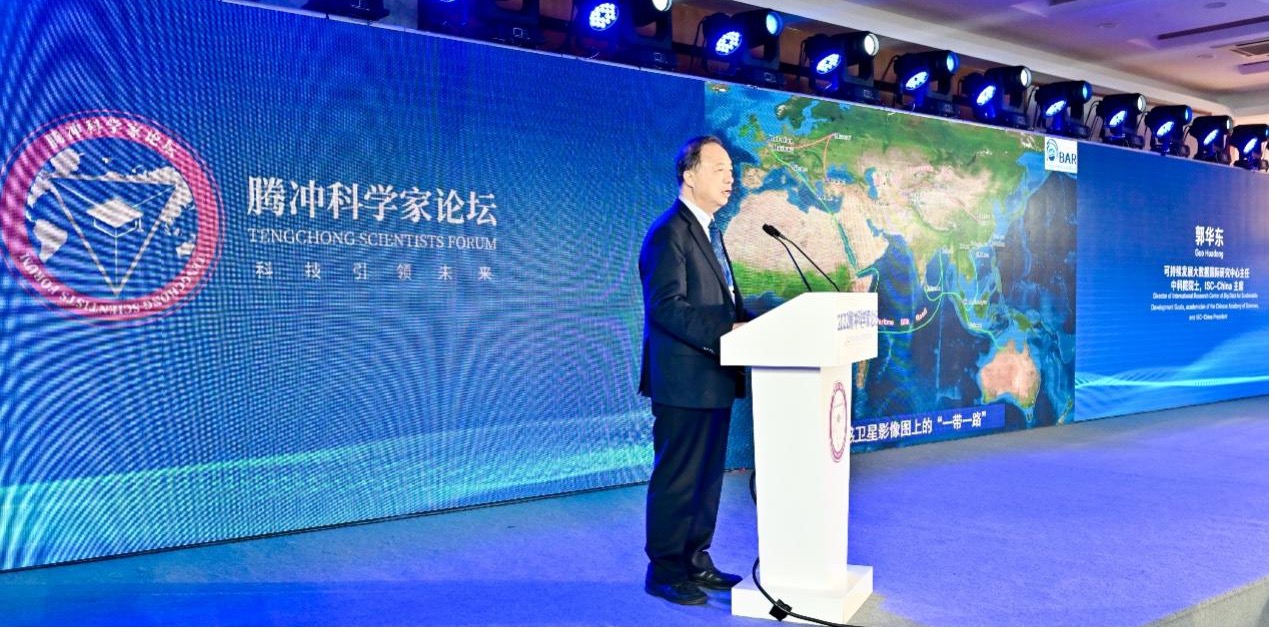 Academician GUO Huadong, Director General of the International Research Center of Big Data for Sustainable Development Goals (CBAS), Chair of the Digital Belt and Road Program (DBAR) delivered a speech at the International Frontier Science Forum