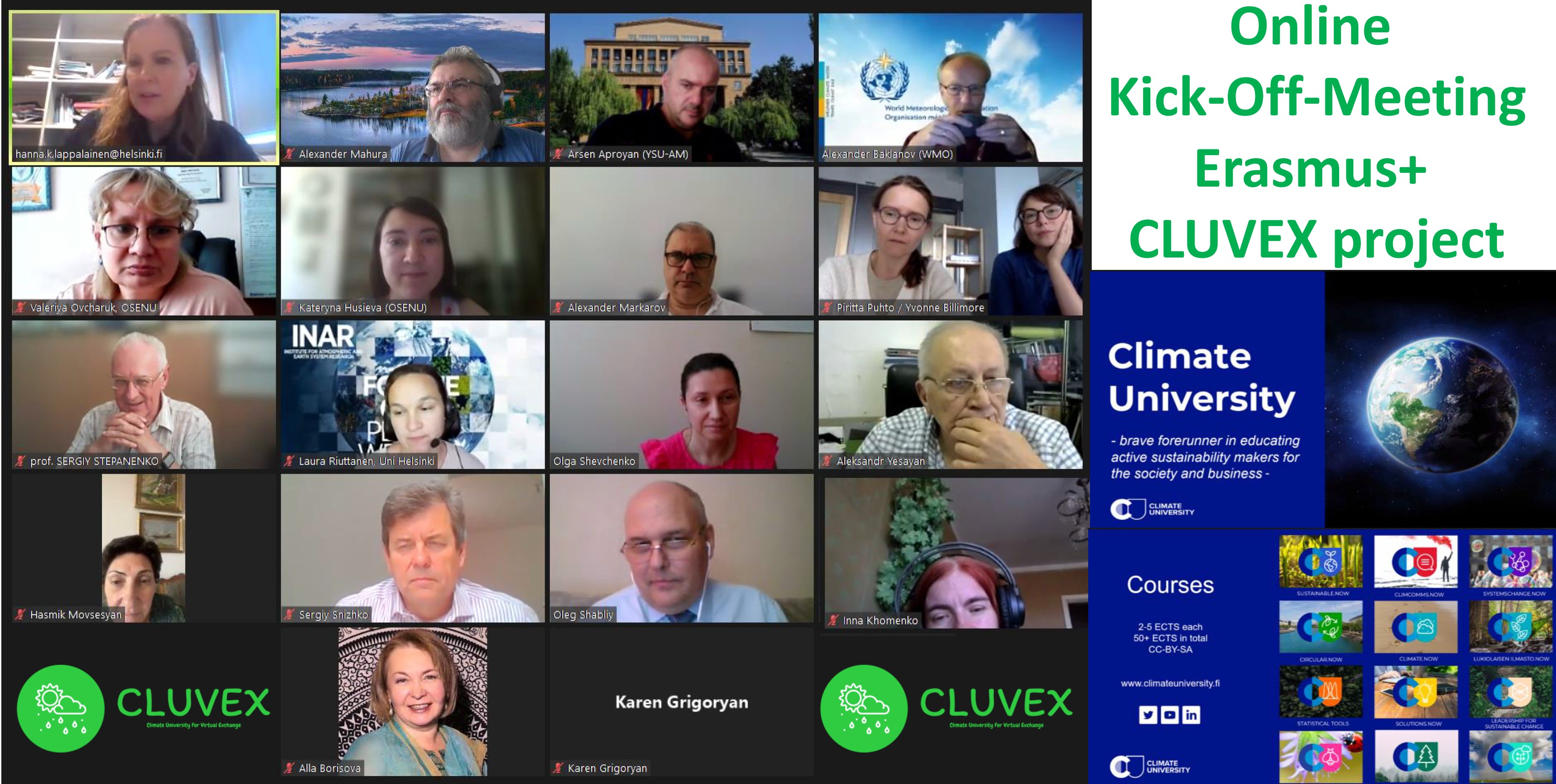 On 30 August 2023, the initial kick-off-meeting of the Erasmus+ CLUVEX (CLimate University for Virtual Exchange; 1 Jul 2023 – 30 Jun 2026; https://www.atm.helsinki.fi/cluvex) project #101111959 took place online. Participants (in total, 21 persons) from 5 Universities (University of Helsinki, UH, Finland; University of Copenhagen, UCPH, Denmark; Yerevan State University, YSU, Armenia; Odessa State Environmental University, OSENU and Taras Shevchenko National State University of Kyiv, TSNUK, Ukraine) and the BioArt Society (Finland) attended this event.
After a round table introduction of all participants, the coordinator of the project Dr. Hanna K. Lappalainen informed about zoom-meetings outcomes in July 2023 (on10th and 24th) with European Commission and take-home messages; signed Grant Agreement (GA, in Jul 2023; and to be send to all Partners) and Articles of GA on delivering all requested material to the coordinator; UH received pre-payment from EC (from total budget of 747 KEuro) and will distribute after signing Partnership Agreements (using downloadable financial identification form) of each Partner with UH; CLUVEX relevant files/documents will be stored at website (public), google-drive (internal), and official reports (ECAS web-portal); EC logo and grant info to be used/acknowledged in all presentations, publications; materials/ contributions are expected from each Partner to public website of the project (webmaster: Mikko Kulmala, UH).
General presentations followed: by the coordinator – about the CLUVEX project Description of Work (DoW) with details on concept of designing virtual exchanges (VEs) and interactive art-based exercises collection for planned VEs for staff training of up to 50 teachers/ facilitators/ moderators during the first year of the project; and then, training of up to 2500 students (i.e., future Climate Messengers) in total by arranging 5 VE Calls (inviting up to 500 students from 5 CLUVEX Partners/ Universities as well as other Universities) followed by practical VE Weeks. VEs orientate participating students to Climate University online courses (and VE Calls will be adjusted to the Climate University schedule). Advisory Boards of Experts and of Students will be involved into co-creation of attractive VE content.
Dr. Laura Riuttanen, UH introduced the Climate University, which 28 higher education institutions involved, and 12 online courses (new courses – forests and climate & living with changing climate) continuously taught (open online materials: www.climateuniversity.fi & in particular, for Autumn semester of 2023 – https://blogs.helsinki.fi/climateuniversity/2023/08/28/climate-university-courses-in-autumn-2023. Climate University principles are based on solid pedagogy, multi-disciplinary collaboration, reflectivity and online learning materials. Climate University as the key player welcomes the CLUVEX VE students to join the courses.
A series of presentations was delivered for the CLUVEX WorkPackages (WP) – WP1 on the Project Management and Quality Assurance (lead UH), WP2 on Preparatory Work for Implementing VE (lead OSENU), WP3 on Staff Training for VE (lead TSNUK), WP4 on WE Implementation at International Level (lead UCPH), and WP5 on Project Dissemination, Visibility, and Sustainability (lead YSU). For each WP, the presentations included main objectives, tasks, milestones, deliverables, expected results, etc.
Moreover, the CLUVEX project schedule and state of play were presented and discussed among participants. This included outline for the first 6 months, i.e., since Jul 2023, for expected Deliverable and Milestones, preparatory steps for WPs Tasks realisation, planned events such as onsite meeting in Helsinki, Finland (WP1) and 1st VE training for moderators/facilitators (WP3), CLUVEX public website.
Text by: Hanna K. Lapplainen, Alla Borisova, Alexander Mahura