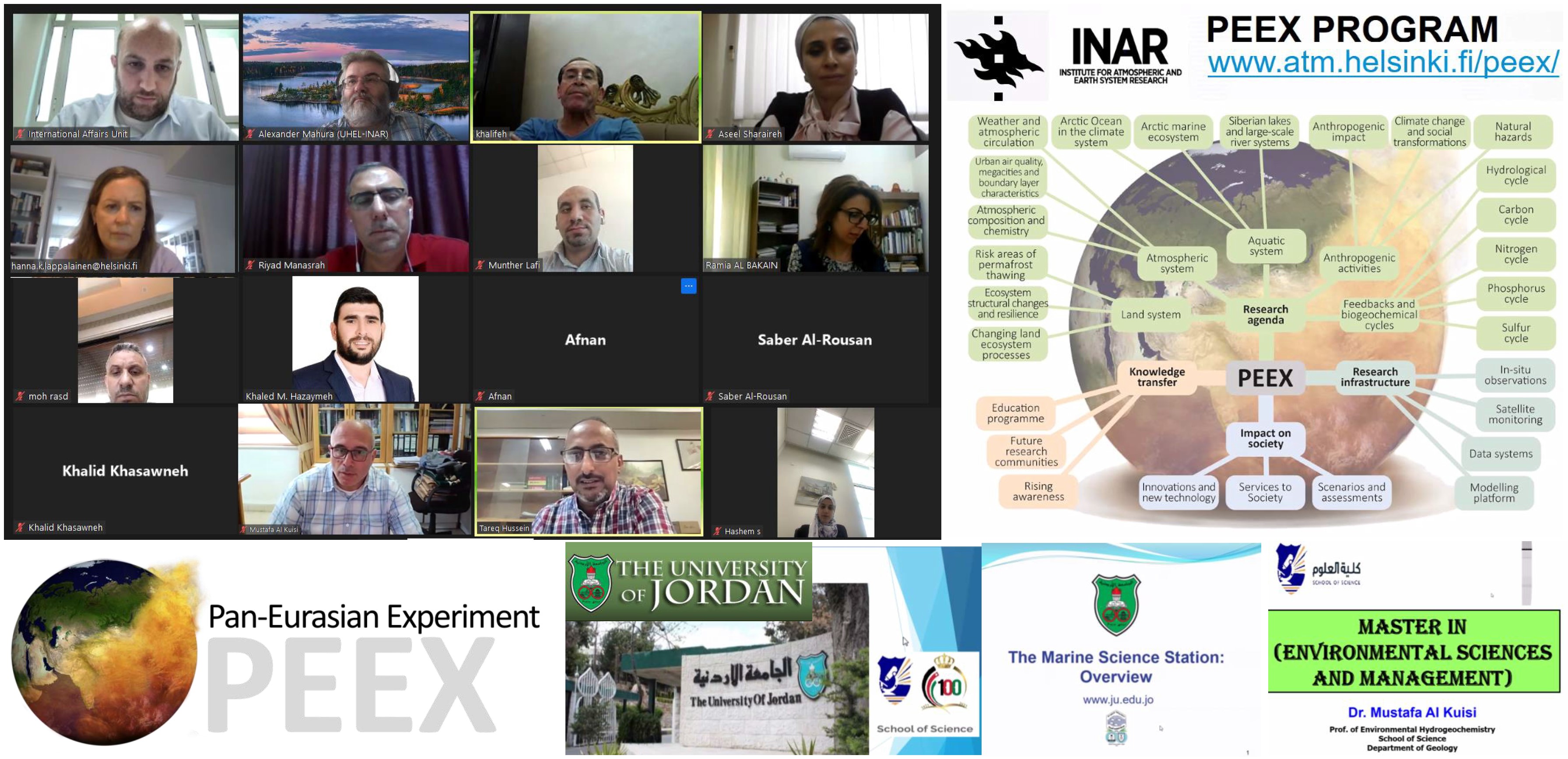 On 22 June 2023 (12-14 pm) the online workshop/brainstorming took place towards strengthening a collaboration between research groups at the School of Science, University of Jordan (UoJ) and the PEEX programme, which is coordinated by the Institute for Atmospheric and Earth System Research (INAR, Faculty of Science, University of Helsinki, UHel). In total 18 persons – from Jordan and Finland from UoJ, UHel, Yarmouk University, and Jordan Atomic Energy Commission – attended the event.
In 2011 the UoJ and the UHel signed the memorandum at a general level, and it was followed by several agreements within the ERASMUS+ programme. Following recent research collaboration between the two universities in the fields of Atmospheric and Environmental Sciences, there is a mutual interest to extend and renew such memorandum between the universities. Specifically, the UoJ is interested in the PEEX programme. At the same time, PEEX is seeking expansion to include the Eastern Mediterranean Region. The UoJ, as a leading research and academic institution, is at the most interest on the PEEX agenda.
After a round-table introduction of participants, the PEEX general introductory overview presentation was delivered by Dr. Hanna K. Lappalainen. It followed by oral talks from Jordan colleagues– Prof. Ramia Al Bakain about activities/ projects of the Faculty of Science, Department of Chemistry of UoJ; Prof. Mustafa Al Kuisi about the MSc programmes (in Geology, in Environmental Sciences and Management) at the Faculty of Science, Department of Geology and BSc programmes (in Science, in Agriculture, in Geology, in Environmental Sciences and Management); Prof. Riyad Manasrah about overview of marine science station (facilities, laboratories, research infrastructures to study tropical-subtropical marine ecosystems, physical and chemical oceanography, fishery, aquaculture, etc. and to contribute to sustainability of development and environmental stability); Prof. Afnan Al-Hunaiti about catalysis and nanotechnology with applications, environmental issues, collaborations; and Dr. Alexander Mahura (from UHel) about seamless/ online integrated modelling on example of the research, development, application, and science education with Enviro-HIRLAM model.
After a series of presentations and briefing on ongoing collaboration, the discussions, exchange of ideas and brainstorming with seeking for extension of the mutual collaboration among the participants/Universities took place. The Jordan side will proceed with signing of the Memorandum of Understanding (MoU) between the Jordan and Finnish Universities as well as PEEX MoU. The PEEX Science Plan needs to be explored by the Jordan colleagues on where research interests could be of mutual interest. In particular, the environmental impact assessments of regions in Jordan and bordering countries could be of interest, for example, from nuclear sources (already existing and planned); observed and future changes in regional weather and air quality due to climate change are of interest too.
The suitable Calls for the Horizon Europe, Academy of Finland, Erasmus+, and other funding programmes and agencies will be monitored for possibility of preparing joint research and educational proposals/ projects. The exchange of students, teachers, and researchers at different levels between the Universities would be also beneficial for both sides. The next online workshop/meeting was preliminary scheduled for autumn 2023.
Text by: Tareq Hussein, Hanna K. Lappalainen, Alexander Mahura