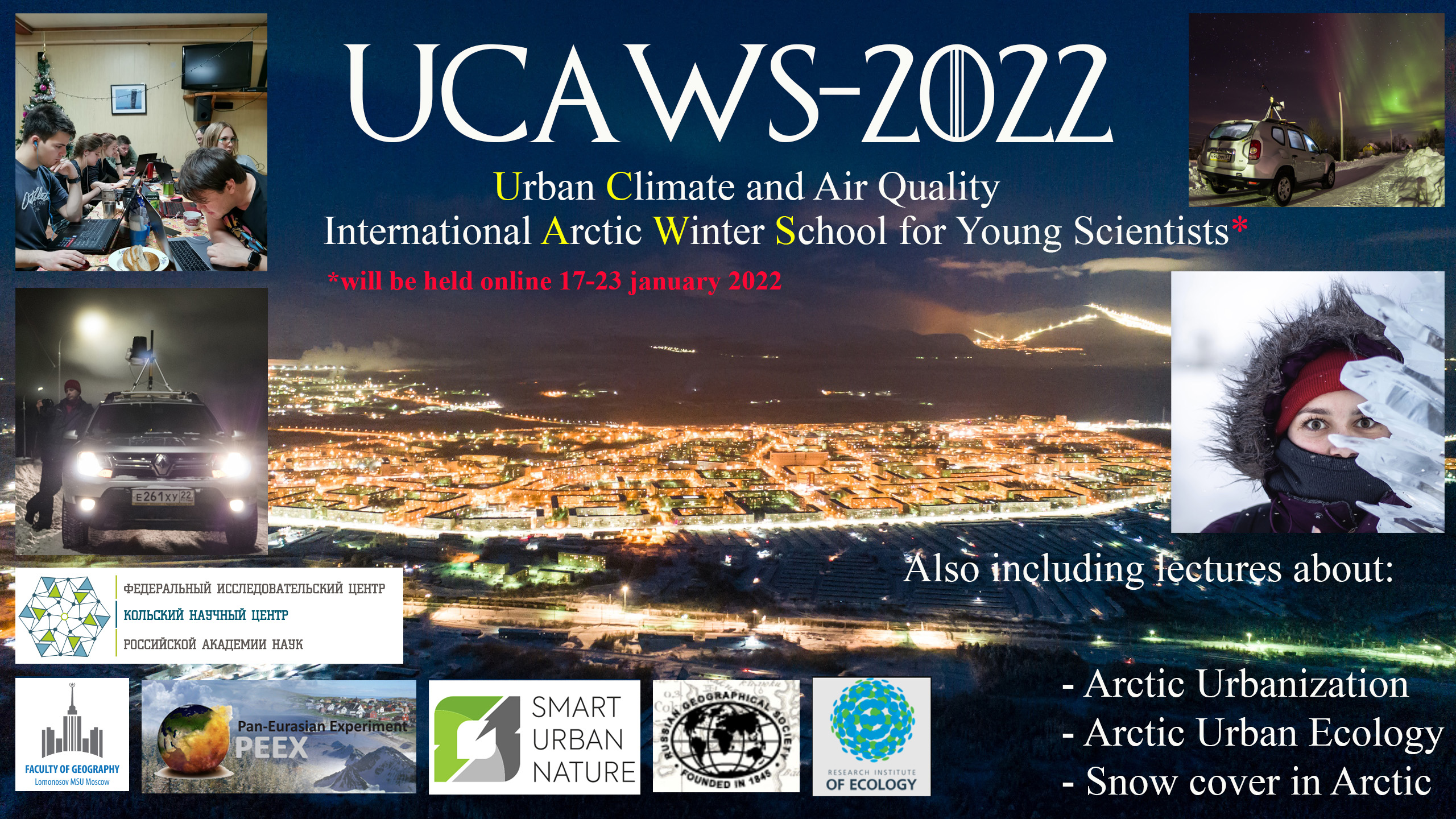 The Training School is co-organized by:
Faculty of Geography, Lomonosov Moscow State University (MSU)
Kola Science Center RAS (KSC RAS)
Research Institute of Ecology and Natural Resource Management (Tyumen State University)
Pan-Euroasian Experiment (PEEX)
Smart Urban Nature (SUN) Laboratory of RUDN
Russian Geographical Society (RGO)
Training School especially targeted for Master/PhD students and young scientists under 40 years old. UCAWS will have a focus on research in the field of Urban climate, Urban Air Quality, Social Urban Studies, Urban Ecology associated with the Arctic region.
Tentative topics of UCAWS-2022
Lectures:
Climate change in Arctic region
Urban climate research in Arctic cities
Urban ecology in the Arctic
Economic and social problems of the urbanized regions of the Arctic
Arctic climate change and cryosphere
Air Quality in Arctic region
Changing environment and infectious diseases in the Arctic
Linux-based applications and technologies for Earth Sciences
Using Matlab in Atmospheric Sciences
Using Python in Atmospheric Sciences
Using R in Atmospheric Sciences
Using Thermal comfort applications for urbanized regions
WRF modeling system for Arctic regions
The Training School program will be complemented by the lectures of senior scientists and experts in the field of Arctic research.
UCAWS-2022 will take place entirely online for participants due to the continuing risks posed by the coronavirus pandemic and the resulting restrictions on international travel. However, organizers will chair Training Course directly from the Kola Peninsula. It will help to demonstrate some measurement methods in real arctic conditions.
Due to the experimental status of UCAWS-2022 no registration fee is required if you are selected as a trainee.
The official language of the winter school is English
Important dates:
12 January – Tentative program of UCAWS-2022 will be published online
13 January 23:59 UTC+3 (Moscow time) – Deadline for applications
15 January – Successful candidates will be contacted via e-mail
17-23 January – Online training course UCAWS-2022